Music is an integral part of life here at the Church of the Ascension.
---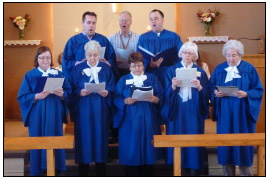 THE CHOIR
Although few in numbers the Choir joyfully provides the music for Ascension's 11:00am Worship Service, led by choirmaster and organist Philip Balson.
"Make a joyful noise…"
---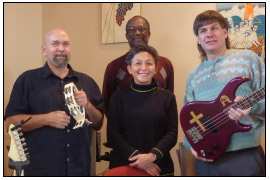 THE ELECTRIC KAZOO
The Electric Kazoo is the Ascension's contemporary Christian music band. It is made up of Erma Howe, Michael White, Ralph Mounter, Doug Frozel, and Cora Felbel. They share their gift of music and song as often as their schedules will permit.  Now are featured at both the 9:00am and at the 11:00am service on the Sundays they perform.
Blending guitars, drums, and vocals, they provide uplifting rhythms and sound to our worship.
You may have seen them in our community performing at Gospel fest, and various Christian events, fundraisers and churches. They also provide music for birthdays, anniversaries, weddings, memorial and funeral services.